NATHANIEL ROGERS
Nathaniel Rogers is older than Penélope Cruz, younger than Nicole Kidman and has neither dated nor signed a contract with Tom Cruise. He blogs daily at The Film Experience.

Take One: Close Up.
The last time the classic musical A Chorus Line was on movie screens Madonna was still in cross earrings and fishnet stockings. That was long ago. The unusual stage musical, which lept through auditions and confessionals instead of plot, had stunned and thrilled audiences on Broadway in the 70s. Director Richard Attenborough, fresh off the Oscar win for Gandhi in the 80s chose it as his follow up project . The response was not thunderous. Standing ovations from the critics or moviegoers were hard to come by. Twenty-four years later A Chorus Line is back in theaters, again spurred on by hoopla for the stage show. The occasion this time is the documentary EVERY LITTLE STEP, which is selling itself as an overview of the international phenomenon of A Chorus Line. But, like the stage show before it, it sidesteps easy categorization.
It's lighter on the history of this landmark classic than you'd expect. While it touches on some of the imaginative leaps the musical made and Michael Bennett's theatrical genius and open homosexuality, its focus is really the casting of the Broadway revival (2006-2008).  Like the stage show before it, Every Little Step chooses auditions and confessionals as instead of plot. In a sense it's a whole movie about A Chorus Line's first song "I Hope I Get It"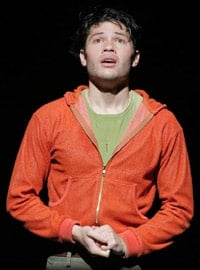 If you're interested in the craft of acting or that Business they call Show, the auditions are fairly riveting. We rarely get the chance to see so many different takes on the same characters in one movie. It's also illuminating to observe how the actors choices collide uncomfortably or merge pleasantly with the casting team's preconceived notions of how the characters should be. Only one of the auditioners, Jason Tam as "Paul", is a slam dunk from the get go. That famous teary monologue about his parents seeing him in drag has the casting team crying buckets. If you saw the the revival you'll be bringing your own spoilers with you into Every Little Step but therest of you will enjoy the suspense. Who gets the parts?
If show tunes give you hives you'll want to steer clear. But you don't mind show tunes looping in your head for hours and hours after hearing them, this is good if occasionally shrill fun. Who knew how difficult "At the Ballet" was to sing without screeching?
Peripatetic (Hugh Jackman)
Poetic (Dollhouse)
and
Chic  (uh… Jason Statham, Zac Efron, Brüno? This Chorus Line intro has failed me).
More AFTER THE JUMP…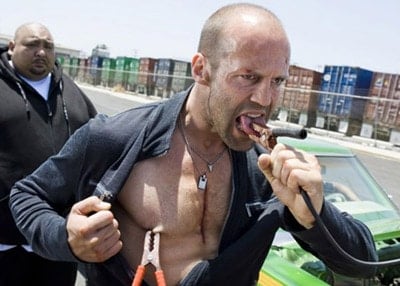 Also opening this week: In 17 AGAIN, Matthew Perry gets inside Zac Efron's body (um, that came out wrong) to go back to high school. It's one of those Big type deals, only reversed. If you like your matinee idols rougher and with more miles on them, there's always Jason Statham clamping battery chargers to his nipples for your amusement in CRANK: HIGH VOLTAGE. Is that the "crude and graphic sexual content" promised in the MPAA's rating? Perhaps there's a bit more, too. Russell Crowe and Ben Affleck are also back in STATE OF PLAY but personally, I'm over them. If I make it to the theater for this one, I'm pretending the movie is about Rachel McAdams and Dame Helen Mirren.

Take Two: Jump Cuts

Bruno exposes himself to Ron Paul. They always fall for it, don't they?

Novelist Bret Easton Ellis (American Psycho) apparently wants to lure Robert Downey Jr back into movie theaters to revisit his first meaty screen role, the addict/hustler from Less Than Zero. Ellis has written a follow up novel Imperial Bedrooms and Downey Jr's character Julian, now two decades older, is  "fragile, but sober."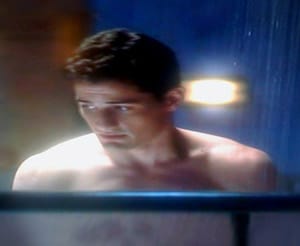 Have you been watching Joss Whedon's Dollhouse? It just keeps getting more interesting. The premise is difficult to describe without it sounding reductive and as xtina might say "dirrty". Young beautiful humans ("dolls") who've signed their life away to a shady corporation are repeatedly implanted with new memories, personalities and skill sets in order to meet the needs (often sexual) of wealthy clients. There's no word yet on whether it's being renewed for a second season but we're guessing it's going to get gayer if it does. So far all the doll fantasies have been heteronormative and focused on headliner Eliza Dushku's considerable ass(etts). But they've been amping up the beefcak in the form of Tahmoh Penikett and Enver Gjokaj (left) lately. And in last Friday's episode, a carrot was dropped for the show's gay fans when a Dollhouse executive casually referenced how often the dolls are sent out on "same sex assignments". Say what?!? Oh Dollhouse… remember that showbiz axiom "show, don't tell". Show Dollhouse, show.

Hugh Jackman hits Seoul with Bean Pole actor/model Daniel Henney to promote Wolverine. Hugh also recently promised to donate 100K to someone's favorite charity if they can convince him with a 140 character tweet. Ha. Hugh Jackman… One singular sensation.