The "ex-gay" group in Uganda which last week held a press conference to announce they were "declaring war" on homosexuality, has named a hospital worker, a European ex-pat, and a Catholic priest and gospel singer as gay: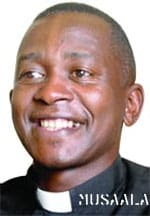 "Paul Kagaba, who says he was a homosexual for eight years, told a press
conference in Kampala that Musaala, a gospel music award-winner,
regularly holds parties for gays at his residence in Gayaza near
Kampala.  He was speaking at the press conference which was held at the
anti-gay crusader, Pastor Martin Ssempa's Redeemed Church at Makerere.
In attendance was another self-confessed reformed homosexual, George
'Georgina' Oundo, and Pastor Solomon Male, an anti-gay activist."
Musaala defended himself: "Whatever they say, I am not gay and I will never be gay. I am only a minister of the Roman Catholic Church. es, I have a private house in Gayaza. It is a beautiful house with
gardens and I host there different kinds of parties. Different groups
of people, especially those from my church, Old Kampala, also come for
prayer and retreats. Basically, I use my house for prayers and retreats. I don't know why people say these are gay parties. Many people make such accusations. This is neither the first nor the last. Let them say what they want. I will challenge the accusations as they come."
More from Box Turtle Bulletin, including reports that the group's leader George Oundo, "converted" to heterosexuality for financial gain.