The "center of gravity has shifted" on same-sex marriage in New York's senate, according to the Log Cabin Republicans, who say members of the GOP won't be pressured to vote against the recently-announced marriage equality legislation, The Advocate reports: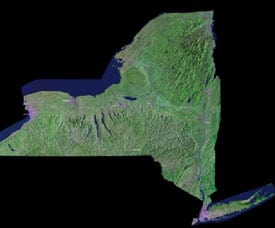 "The Log Cabin Republicans announced Tuesday that the GOP's New York leadership in both the state senate and assembly are going to allow Republican legislators to make 'conscience votes' on Gov. David Paterson's marriage-equality bill rather than pressuring party members to vote against it, giving the legislation a much stronger likelihood of picking up Republican votes in both chambers.The development may be particularly important in the senate, where Democrats hold a slim 32-30 majority, four Democrats have already said they will vote against the marriage bill, and equality advocates will need to pick up several GOP votes in order to pass the legislation. Strategists expect the legislation to sail through the assembly, which already passed an identical bill in 2007 by a vote of 85 to 61."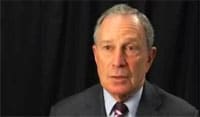 In related news, New York City Mayor Michael Bloomberg responded to recent polls that show 53% of New Yorkers in support of marriage equality as well as recent remarks by former mayor and possible gubernatorial candidate Rudy Giuliani that same-sex marriage would be an issue if he decided to run.
Bloomberg spoke briefly last week at Governor David Paterson's announcement that he was reintroducing marriage equality legislation.
Watch Bloomberg's brief remarks to Think Progress, AFTER THE JUMP…
New York Marriage Bill Gets GOP Boost [the advocate]