The Des Moines Register reports: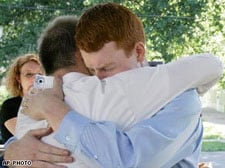 "A long awaited and significant Iowa Supreme Court case ruling on
same-sex marriage will be released tomorrow, likely at 8:30 a.m. The
case, Varnum vs. Brien, involves six same-sex Iowa couples who sued
Polk County Recorder Timothy Brien in 2005, after his office denied
them marriage licenses. Polk County District Judge Robert Hanson sided
with the couples in a ruling last year, but he suspended his decision
until the high court speaks. The case would have consequences
outside the state's borders. Iowa would become the first Midwestern
state to allow same-sex marriage and the fourth in the nation if the
court sides with the gay couples. Legal experts say such a decision
would echo across the country and strengthen the gay rights movement."
The Court heard arguments in the case on December 9 of last year. You can listen to them HERE.
Pictured above are Sean Fritz and Timothy McQuillan, the only same-sex couple in Iowa who managed to receive a license and get married before Hanson stayed his ruling at the county's request.