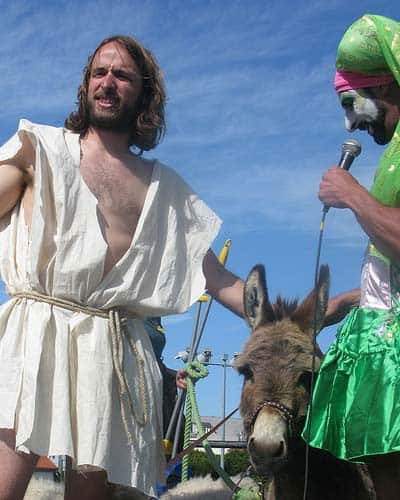 The Sword (site nsfw) reports that 'Livestock Jesus' was this year's winner of the annual Hunky Jesus contest (which you may remember prompted outrage from Bill O'Reilly last year) in San Francisco's Dolores Park:
"Despite stiff (and half-naked) competition from a rapping MC Jesus, aBrokeback Jesus duo, Victoria's Secret Jesus and Larry Magdalene, thecrown of thorns was placed decidely on Livestock Jesus, who appeared onstage with a flock of live sheep and an incredibly cute mini donkey. A larger than expected pool of would-be Jesi required an earlyelimination round, during which lesser prophets  like Armani Jesus andthe Spice Christs were sent out of the promised land."
Some brief YouTube video of one Brokeback Jesus (possibly NSFW), AFTER THE JUMP…
The Sword (site nsfw) promises a full gallery soon.