The NYT yesterday ran a piece on New York Senate Majority Leader Malcolm Smith and the pressure cooker he's in on marriage equality — on one side he's got Governor David Paterson pressuring him to move the marriage equality bill forward, and on the other a spiritual "mentor" he has known for more than two decades, Reverend Floyd Flake.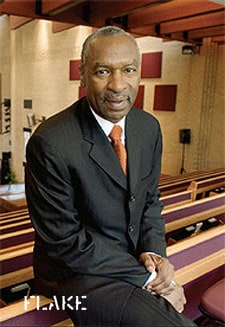 Said Flake to his congregation this Sunday: "I don't care what the politicians think. Ain't nothing perfect about laying down and signing a license with somebody who got the same body parts you got."
The paper reports: "Mr. Smith, who went to work for Mr. Flake in 1986 as a Congressional
aide, said the minister's views on the subject have not weakened his
own resolve to see same-sex marriage legalized. Though they speak
nearly every day, the two men said they have not broached the topic
recently. 'He knows what my position is. I know what his
position is,' Mr. Smith said. 'He looks at it as a religious matter,
and I look at it as a legal matter.' Mr. Smith said he arrived at
his decision to support same-sex marriage two years ago when he began
considering it a matter of equal rights."
In related news, two thousand people are expected tomorrow in Albany for the Empire State Pride Agenda's Equality and Justice Day of lobbying for marriage equality.
Attendees expected include Governor David Paterson; Assemblymembers Daniel O'Donnell & Richard Gottfried, & other elected officials; Kate Hathaway, PFLAG member & mother of actor Anne Hathaway;  Alan Lubin, NYS United Teachers; Bishop Prince Singh, Episcopal Diocese of Rochester; Donna Lieberman, NYCLU; Arrie Moore, Spectrum Transgender Group of Western NY; Rabbi Marcelo Bronstein, Congregation B'nai Jeshurun; Alan Van Capelle, Empire State Pride Agenda.