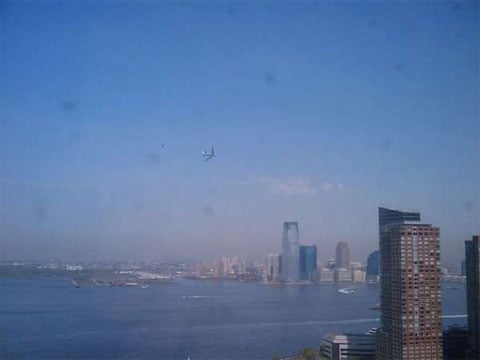 Apparently the plane, which was the Air Force One back-up with two fighter jets tailing it, was on a city-approved photo-op. Unfortunately, neither the NYPD chiefs nor the FAA told anyone, resulting in this:
"Unaware of the planned exercise, scores of office workers flooded out of buildings, worried about the prospect of terrorism. 'People came pouring out of the buildings, the American ExpressBuilding, all the buildings in the financial district by the water,'said Edward Acker, a photographer who was at the building, 3 WorldFinancial Center. 'And even the construction guys over by 100 North EndAvenue area, they all got out of their buildings. Nobody knew about it.Finally some guy showed up with a little megaphone to tell everyone itwas a test, but the people were not happy. The people who were here9/11 were not happy.' Mr. Acker added: 'New York City police were standing right there andthey had no knowledge of it. The evacuations were spontaneous. Guysfrom the floor came out, and one guy I talked to was just shaking.'"
The White House did not have a response to the incident.
UPDATE: Louis E. Caldera, director of the White House Military Office, issued an apology. "Last week, I approved a mission over New York. I take responsibilityfor that decision. While federal authorities took the proper steps tonotify state and local authorities in New York and New Jersey, it'sclear that the mission created confusion and disruption. I apologizeand take responsibility for any distress that flight caused."
Watch videos of the plane and WH press briefing, AFTER THE JUMP…