Chris Rovzar at New York magazine reports on yesterday's Equality and Justice Day in Albany, where a rally was held
and legislators were lobbied by constituents urging them to pass
marriage equality in New York: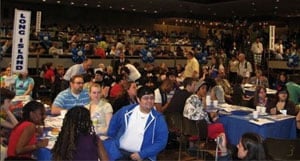 "There was only one dissenter wandering the field in front of the State
House in Albany today, as over 2,000 people rallied for LGBT civil
rights for the Empire State Pride Agenda's Equality and Justice Day.
The anti-protester, who intoned passages from the Bible as he railed
against the "abominations" around him, was quickly chased off by a
group of high-school kids wearing Goth makeup and rainbow tights."
Our post from yesterday with photos can be found here. (images via hrc twitter)
Below are speakers at the rally. The videos below feature Alan Cumming, Alan Lubin – New York State United Teachers, Bishop Prince Singh of the Diocese of Rochester, actress Anne Hathaway's mother Kate Hathaway, and Empire State Pride Agenda executive director Alan van Capelle.
Here also is a video by Elizabeth Benjamin of the New York Daily News. Benjamin reports that Paterson hasn't lobbied any legislators yet on marriage equality: "I haven't talked to any of the legislators about marriage equality
yet. I've been talking to them mostly about the MTA over the past couple
weeks. But I've been waiting to let the
advocates have the advocacy day and let them do some of the research
and try to make identifications (about) what would be the right
direction. But I would be happy to talk to legislators. I do it all the time.
Two of them, three of them are coming to see me today on different
isues."

Paterson: One Person 'Can't Dictate' In Albany from Elizabeth Benjamin on Vimeo.