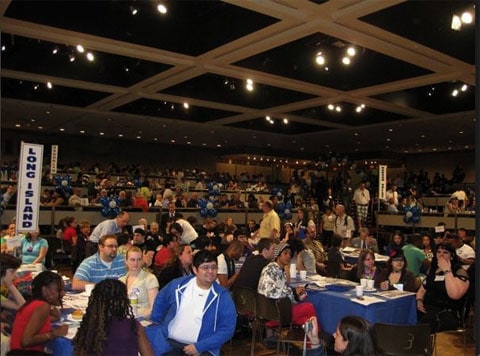 Two thousand LGBT New Yorkers are in Albany today to lobby lawmakers on marriage equality for the Empire State Pride Agenda's  'Equality and Justice day'. Here's the view inside the convention center. A rally in West Capitol Park is set to begin in 15 minutes.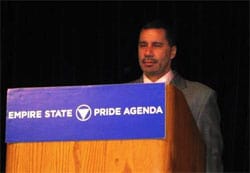 The Human Rights Campaign posted these photos to Twitter
just a few moments ago. Said Paterson, according to HRC: "We are all
coming together to make sure justice prevails for everyone!"
The NYDN reports Paterson received a thunderous ovation: "Van Capelle called Paterson 'New York's governor, our governor, the next governor.' The crowd
responded by jumping to its feet with wild chants of 'David! David!
David!' Paterson welcomed them all and said: 'When you leave, Albany will have pride.' The governor, who recently introduced a program bill
to legalize gay marriage as part of his political comeback effort, then
went into a long riff on how 'sometimes it takes a disciplined effort
and some losses to get a victory.' He said later he was merely trying to rally supporters, not end a
signal that the bill won't pass this year, despite the fact that the 32
votes Senate Majority Leader Malcolm Smith has said he needs before
moving the measure to the floor have yet to materialize. Paterson suggested those who oppose the bill are doing so out of 'guilt.'
 Attendees expected include Governor David Paterson; Assemblymembers
Daniel O'Donnell & Richard Gottfried, & other elected
officials; Kate Hathaway, PFLAG member & mother of actor Anne
Hathaway;  Alan Lubin, NYS United Teachers; Bishop Prince Singh,
Episcopal Diocese of Rochester; Donna Lieberman, NYCLU; Arrie Moore,
Spectrum Transgender Group of Western NY; Rabbi Marcelo Bronstein,
Congregation B'nai Jeshurun; Alan Van Capelle, Empire State Pride
Agenda.
Families and clergy are also present (below, left and right)
New York magazine's Chris Rovzar reports: "This morning, Governor Paterson addressed the group. 'Let not
Proposition 8 be a detriment, let it be a call to arms,' he said to a
standing ovation, comparing the timing of the current struggle for
marriage equality to women's suffrage, emancipation, and the Americans
With Disabilities Act — all civil-rights leaps that were defeated less
than a decade before they were passed….State Assemblyman Danny O'Donnell noted that the marriage-equality
bill, introduced by Governor Paterson, will be put to a vote on Monday.
It passed there the last time it went to a vote, and O'Donnell vowed it
swiftly would again. 'I would not want to be standing in the path of
this movement,' he added. 'This is about humanity.'"