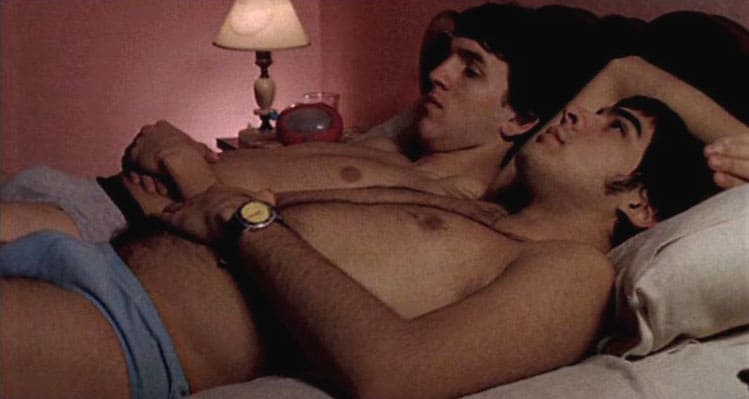 Was that too much of a cocktease? If so, it's nicely representative of the Argentian short
EL RELOJ (THE WATCH)
in which Javier (nervous on the left)  takes a taxi home with Juan Pablo (right, fighting the battle of the bulge) but neither seems to know quite what to do or when to do it once they get there. Especially with Pablo's roomate hanging around in his undies watching TV. It's a mildly funny tease and shorts are best when they stick to brief impressions (puns intended).
NaFF featured only one fictional gay film, the lesbian comedy THE BABY FORMULA but documentaries were out in force. ASK NOT examined the military's failed "don't ask/don't tell" policy (but strangely skimped on lesbians in the military), HOUSE OF NUMBERS saught clarity and understanding rather than the heavily politicizing which surrounds the HIV/AIDS epidemic, and SHAKESPEARE AND VICTOR HUGO'S INTIMACIES  listened to old women at a lodging home reminiscing about a young beautiful and talented homosexual who once lived with them. He may or may not have been a serial killer.
 But the cream of the festival crop was the riveting PRODIGAL SONS, an autobiographical docu-memoir from transgendered filmmaker Kimberly Reed (pictured left). I expect the film will have many champions when it sees release sometime later this year. [Pssst. Nicole Kidman and Keith Urban attended the screening before mine and I hope they were as wowed as I was]  The film begins as Kimberly returns to her 20 year high school reunion in Montana where she was once "Paul", the handsome star quarterback. While she's there she hopes to mend her relationship with her adopted brother. And that's just the beginning of this incredibly moving, twisty story of a troubled but loving family struggling with gender, biology, sexuality, family rifts, grief, sibling rivalry and mental illness. Keep an eye out for this film. It's great.
But maybe you didn't read any of this…
You're still thinking about Channing Tatum and the guaranteed homo-eroticism of "fighting" movies, aren't you?