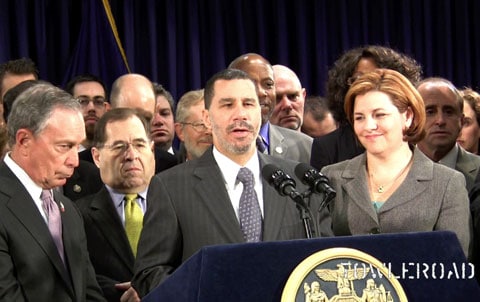 Today, New York Governor David Paterson re-introduced legislation that would legalize same-sex marriage in the state in front of a crowded room of reporters and marriage equality advocates. Paterson was flanked by dozens of New York politicians and LGBT rights leaders.
Highlights of Paterson's remarks, AFTER THE JUMP…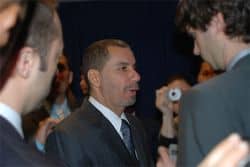 Paterson placed the marriage equality battle in the context of the civil rights movements of the 20th century and made note of the recent victories in Iowa and Vermont, shrugging off California and the passage of Proposition 8.
Said Paterson: "Anyone that has ever experienced degradation or intolerance wouldunderstand the solemn duty and how important it actually is. Anyonethat's ever experienced antisemitism or racism, any New Yorker who isan immigrant, who has experienced discrimination, any woman who hasfaced harassment at work or suffered violence at home, any disabledperson who has been mocked or marginalized, understands what we'retalking about here. We have all known the wrath of discrimination. Wehave all felt the pain and the insult of hatred. This is why we are allstanding here today. We stand to tell the world that we want equalityfor everyone. We stand to tell the world that we want marriage equalityin New York State."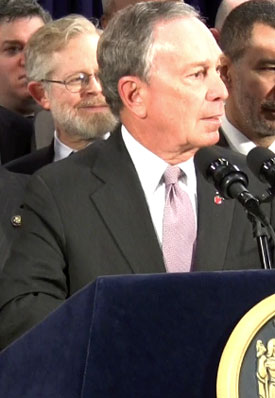 Following Paterson was New York City Mayor Michael Bloomberg, whose speech was notable in that he halted it for a minute and a half after an audio device belonging to the Examiner's Michael Harris, who is in a wheelchair, began going off. Bloomberg refused to continue until the device was found and silenced.
Joining Paterson to speak were Assemblyman Daniel O'Donnell, state senator Thomas Duane, New York City Council Speaker Christine Quinn, and  Empire State Pride Agenda Executive Director Alan van Capelle.
Senate Majority Leader Malcolm Smith was not present. Paterson said Smith returned from out-of-town yesterday, and did not know about today's press conference but is a "strong supporter" of the legislation.
Paterson added: "Rights should not be stifled by fear…Silence should not be a response to injustice. If we take no action, we will surely lose. Maybe we've already lost."
I'll be adding more video as I get it processed. Unfortunately, I had some technical difficulties which made everything take just a little bit longer, so, sorry for not having this up sooner.
Highlights of Paterson's remarks, AFTER THE JUMP…