Like almost everyone else, New York state senator Ruben Diaz Sr. was caught by surprise at Governor David Paterson's announcement that he would be re-introducing same-sex marriage legislation and wanted to vote on it. You may remember, Diaz Sr. was one of the gang of three Democrats who brokered a deal with senator Malcolm Smith allowing him to become majority leader.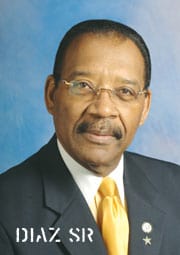 Democrats had not planned to bring same-sex marriage legislation up for a vote unless they were sure it had the votes to pass. Paterson says he wants debate and a vote, regardless.
Diaz is flipping out. He has called an "emergency summit" of the New York Hispanic Clergy Organization to strategize on what to do. Elizabeth Benjamin from the NYDN reports:
"In a brief telephone interview this morning, Diaz Sr., a Pentecostal
minister who has long been vocal in his opposition to gay marriage,
questioned Paterson's timing and called it 'ridiculous,' particularly
given the fact that this is the week Archbishop Timothy Dolan is being
installed in his new job. 'I think this is the wrong time to do it,' Diaz Sr. said. '(Paterson) is doing this as a welcoming ceremony for the new Catholic?
It's ridiculous.' In the press release announcing tomorrow's meeting at the Christian
Community Neighborhood Church, the Bronx Democrat went even further,
calling the governor's move 'disrespectful,' and adding: 'If I were
Governor Paterson, I would abstain from going to St. Patrick's
Cathedral for the welcoming ceremony and to celebrate Mass.'"
Benjamin also reports that "Sen. Tom Duane, who was initially not pleased with Paterson's decision to push gay marriage, now says he believes the bill will pass 'with bipartisan support,' although he isn't naming the names of any GOP supporters.
So far, four Senate Democrats, including Diaz Sr., are on the record as saying they will oppose the bill."