The New York State Court of Appeals has agreed to hear two cases challenged by the right wing Alliance Defense Fund involving same-sex marriages performed out of state: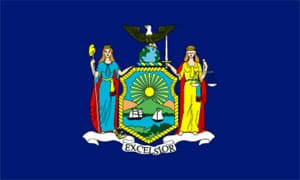 "One case, Godfrey v. Spano, stems from the Westchester County
executive's 2006 decision to begin officially honoring out-of-state
marriage licenses for gay couples the same way it did for heterosexual
couples.The other case, Lewis v. New York State Department of
Civil Service, was filed after the department agreed in 2007 to begin
recognizing out-of-state, same-sex marriages for the purpose of
extending health insurance to spouses of public employees."
Lambda Legal had been hopeful the court would not agree to hear the cases, while the Alliance Defense Fund expressed confidence that the cases would be overturned. Neither involves David Paterson's directive of last May in which he ordered that the state recognize same-sex unions performed elsewhere.