Pastor Rick Warren canceled an Easter Sunday appearance on This Week with Geroge Stephanopolous "moments before the scheduled interview." Stephanopolous explained Warren was "sick with exhaustion."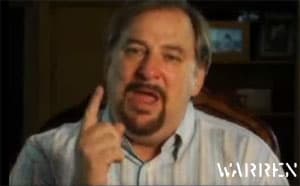 The appearance would have likely forced Warren to confront his conflicting statements about Proposition 8 and same-sex marriage. Last week, Warren told Larry King: "You know, Larry, there was a story within a story that never gottold. In the first place, I am not an anti-gay or anti-gay marriageactivist. I never have been, never will be. During the wholeProposition 8 thing, I never once went to a meeting, never once issueda statement, never — never once even gave an endorsement in the twoyears Prop 8 was going."
Religious right wing groups were flummoxed by the statement. Said Wendy Wright, president of Cooncerned Women for America: "Whether he supports Proposition 8 now, after the fact, is overshadowedby the bizarre claim that he did not say what the evidence so clearlyproves he said."
What Wright refers to is a video Warren posted shortly before the election, in which he clearly expressed support for Proposition 8 and urged voters to do the same.
Watch Stephanopolous' announcement, and the damning Prop 8 video, AFTER THE JUMP…