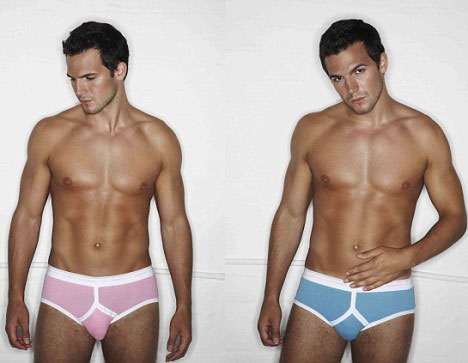 According to Jockey, the economic downturn means an upturn in colors down below:
"It may seem as far fetched as fairies, but if research from men's
underwear brand Jockey is to be believed, sales of pink pants are
soaring as men use their undergarments to cheer them up in the economic
crisis. …Jockey claim that sales of their coloured Y-front briefs have
rocketed by an average of 60 per cent over the last six months – and the baby pink pairs have
sold more than any other, seeing a 62 per cent boost in sales over the
past three months. Other colours that have seen a hike in sales are baby blue, orange, and a very fetching pistachio green. If
claims that men are perking themselves up using their pants is true, it
adds a new dimension to lipstick economics – the theory market
-watchers attribute to sales
of small cosmetic items rising in a recession, or the fact that
hemlines rise and fall with the economic state of the country. According to Jockey, this sales spike mirrors a similar effect seen in America during the great depression of 1935."