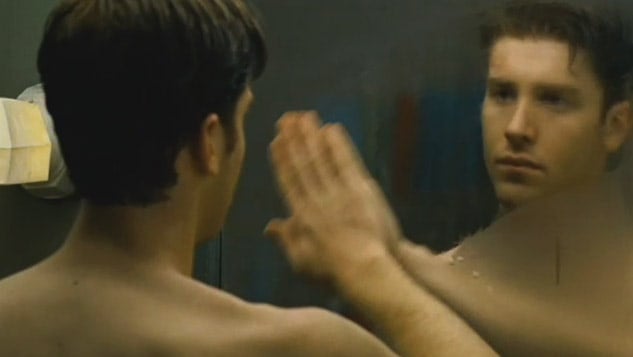 Nathaniel Rogers is older than Penélope Cruz, younger than Nicole Kidman and has neither dated nor signed a contract with Tom Cruise. He blogs daily at The Film Experience.

Take One Now Playing.
Have you ever been to Pittsburgh? It's nothing like Queer as Folk promised. After Showtime's long running series painted the city's downtown as lavender as the Castro, Pittsburgh simply had to be reclaimed for heterosexuals everywhere. Writer/Director Rawson Marshall Thurber (Dodgeball) was the man to do it. His new film shares a name with celebrated author Michael Chabon's novel THE MYSTERIES OF PITTSBURGH but not much else.
Jon Foster (pictured above) plays the slightly sexually confused Art Bechstein. When you're confused you should always stare dreamily into foggy bathroom mirrors and ask yourself the important questions like:  "Why, in 2009, would a filmmaker feel it necessary to pretend my boyfriend doesn't exist?" Filmmakers are expected to take some liberties when they adapt novels but this is ridiculous. Bechstein's male lover "Arthur" was no minor character in the novel, but one of the three leads. Anybody who grew up with the novel as a coming of age touchstone should probably steer clear as various die hard Pittsburgh fans, like Frank Anthony Polito (author of Band Fags), have been warning us for some time.

Not that Hollywood has that many other options for you this weekend. Maybe you'll join the crowds to see ubiquitous Seth Rogen in Observe and Report(the second mall cop related comedy of the year, what's up with thattrending?) but if you're over 16 you probably don't care about Hannah Montana(The Movie!) although the plot line "she can't go on living this double life!"does seem ripe for an eventual drag send up. Not that it's not alreadycamp what with the shoe warfare and the Tyra Banks mugging. Psst, you can get that cheaper on the endless cycles of America's Next Top Model.
Do we care what Dragonball is? No, but James "Spike" Marsters does appear as the villain so there's that. Remember when he was taunting Buffy or causing out actor Tom Lenk to go all goo-goo eyed for his undeadcool? Remember when he was making out with John Barrowman on Torchwood? Good times. Gay old times. Better times.
Take Two Movie Bits.
What on earth does John Waters need a super-sized bottle of poppers for?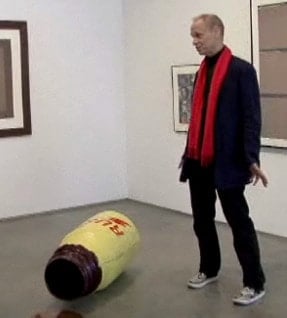 Find out, AFTER THE JUMP…

Financing for John Waters wonderfully titled Fruitcake may have fallen through, but the Serial Mom director is keeping busy. The TakeAway has been chronicling his latest project, an art exhibit which features a super-sized bottle of poppers among other embarrassments. "I always try to glorify things people try to hide," he muses. There's also a hilariously cheeky piece called "Rear Projection" which mixes, you guessed it, asses into old movie stills.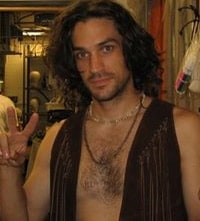 If you're in the NYC area any time soon, run to HAIR. The Broadway revival recently opened and it may make you forget all about the 1979 movie. It doesn't lack for energy, resonance or nudity. Super sexy Will Swenson, who used to star in Mormon films (!), stars as "Berger". Expect it to nab TONY Awards this summer.

Esquire has released their new "How to Be a Man" issue featuring 66 Guys to Emulate. They lean heavily on actors (George Clooney on the cover) but not one gay man appears. This is 2009. We can't get even get a shout out to a Neil Patrick Harris or a Cheyenne Jackson? Boo.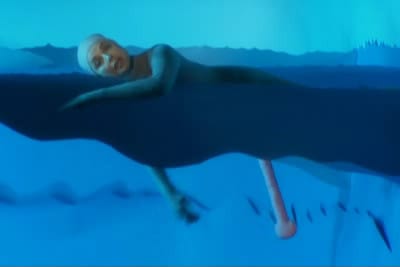 Isabella Rossellini has gone crazy for phallus in the second season of her hilarious outre Sundance series Green Porno. "A penis has disadvantages in water… "  

A new clip from the reboot of Star Trek suggests that they're sexing the movie up and definitely playing with the Captain Kirk is a horn dog angle. Hottie Chris Pine, who used to have to play second fiddle to Princess Anne Hathaway and Lindsay Lohan seems to be enjoying his big cocksure break out in front. But with Pine and Zachary Quinto and a ton of other lookers starring, why haven't they incorporated some of that Trek slash fiction into the mix (Spock ♥ Kirk). It's a mystery.