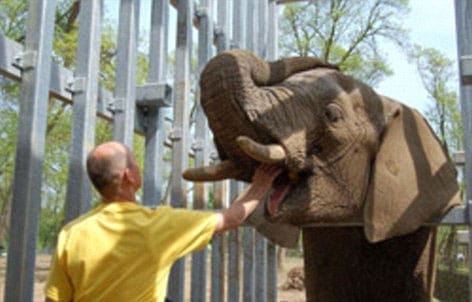 Michal Grzes, a councillor from the right-wing opposition Law and Justice party in the city of Poznan, Poland is outraged that the Poznan Zoo purchased an elephant for 37 million zlotys (approximately $11 million) because the male elephant prefers the company of other males.
Said Grzes: "We were supposed to have a herd, but as Ninio prefers male friends over females how will he produce offspring?"
Russian news agency RIA reports: "Visitors have been flocking to a zoo in the western Polish city of
Poznan to catch a glimpse of an elephant, who it is claimed is
homosexual, Polish media said. The ten-year-old African Bush elephant, Nino, has had to change zoos
three times in the past five years because of his aggressive behavior
toward female elephants, including pushing them into the pool. However
his attitude to male elephants is described as 'affectionate.' … 'He only liked his buddies and hit the cows with his trunk, and was
very disrespectful on the whole,' Michal Grzes, the conservative Law
and Justice (PiS) deputy for Poznan said."
The zoo's director notes that elephants don't reach sexual maturity until the age of 14.