Media watchdogs and LGBT groups were quick to condemn North Carolina congresswoman Virginia Foxx's remarks yesterday that Matthew Shepard's murder was not a hate crime, using the word "hoax" to describe it.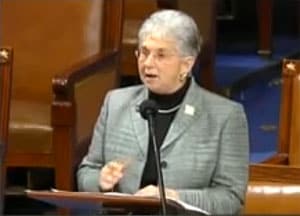 Said Foxx in a statement late on Wednesday:
"It has come to my attention that some people have been led to believethat I think the terrible crimes that led to Matthew Shepard's death in1998 were a hoax. The term 'hoax' was a poor choice ofwords used in the discussion of the hate crimes bill. Mr. Shepard'sdeath was nothing less than a tragedy and those responsible for hisdeath certainly deserved the punishment they received. Thelarger context of my remarks is important. I was referring to a 2004ABC 20/20 report on Mr. Shepard's death. The 20/20 report questionedthe motivation of those responsible for Mr. Shepard's death.Referencing this media account may have been a mistake, but if so itwas a mistake based on what I believed were reliable accounts."
So we have that appalling piece of sensationalist trash from Elizabeth Vargas to thank for that.
Meanwhile, she was the subject of a Hardball segment and Keith Olbermann's "worst person in the world" last night
Watch them, AFTER THE JUMP…