The musical adaptation of Armistead Maupin's Tales in the City we first heard about back in January 2008 is moving along nicely, according to reports.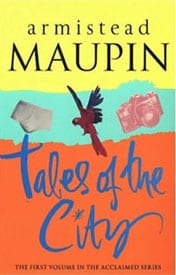 Variety reports: "The tuner adaptation of 'Tales of the City' and the latest play by
Pulitzer-winner Nilo Cruz are among the new works to be developed this
year during the O'Neill Theater Center's annual summer sessions. 'Tales,' with book by Jeff Whitty ('Avenue Q') and songs by Scissor Sisters musicians Jason Sellards (aka Jake Shears) and John Garden, will run as part of the O'Neill's 32nd annual National Music Theater Conference..'Tales,' which hopes to tap the Broadway potential of Armistead Maupin's series of books (and subsequent tube adaptations), will be seen at the O'Neill July 4-11."
The show's synopsis, as published by Playbill: "Based on the beloved series of novels by Armistead Maupin, Tales of the City
follows a community of friends, lovers, and others who reside at the
mythical address of 28 Barbary Lane in 1976 San Francisco. Mary Ann
Singleton, a fresh arrival from Ohio, falls into a diverse band of
Bohemians and blue-bloods, as families are created and rediscovered
under the watchful eye of mystical landlady Anna Madrigal."
Avenue Q and Shrek the Musical director Jason Moore, while not mentioned here, has been attached to direct in previous reports.