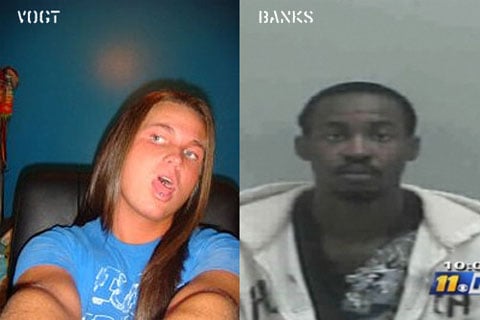 Two weeks ago I posted about the murder of Spencer Vogt, a gay 19-year-old from Katy, Texas, who was shot by a 19-year-old stranger, Lee Carl Banks III, he met in a gay chat room. The motive is still unknown, the Houston Chronicle reports:
"Both Vogt and Banks
were openly gay and both were young when their fathers died. Vogt
embraced his homosexuality, describing himself on his MySpace page as
"gay and proud" and posting provocative self-portraits. Banks also was fond
of posting self-portraits on his MySpace page, though his pictures were
less racy — sometimes showcasing his new clothes, expensive suits or
new Air Jordan shoes. Fort Bend County sheriff's investigators and Texas Rangers don't yet know which man initiated contact with the other. Police believe Vogt
was killed on the men's second date at the apartment Banks shares with
his mother in the 3300 block of Yellowstone. Banks first told police
Vogt found his gun in his room and they struggled, which caused the gun
to fire, striking Vogt in the head."
Banks has given the police conflicting reasons for the shooting, including theft of Vogt's vehicle, which he was driving in northwest Georgia at the time of his arrest.