Florida Supreme Court to hear arguments in gay adoption case tomorrow: "Tomorrow the Florida Supreme Court will hear
oral argument in the case of Liberty Counsel v. The Florida Bar. Earlier
this year Liberty Counsel filed a petition at the Florida Supreme Court,
arguing that the Bar should remain neutral in the state's homosexual
adoption controversy."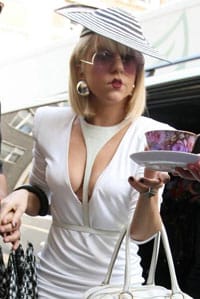 GaGa: Spot of tea?


If you had a horn growing out of your forehead for 20 years, you'd look this happy too.


Tharon Musser, lighting designer for more than 150 Broadway shows, dies at 84.

Idolator talks to the Pet Shop Boys.


Why hasn't the United States lifted HIV travel restrictions yet? "Following new legislation last year, the HIV entry ban is no longer
law, but remains an administrative decision to be ruled on by the
Department for Health and Human Services."

Brazilian President Lula writes letter in favor of gay rights.

DSquared2 twins Dan and Dean Caten are getting their own music show on Sirius radio: "The program, called 'Dean and Dan on Air: Style in Stereo,' will spin
music from the past and present, including the soundtracks from their
runway shows, spanning genres including urban, dance, hip-hop and rock
'n' roll. The program will also feature interviews with celebrities to
discuss the latest in fashion, music, politics and more."

Hugh Jackman says fans rarely recognize him.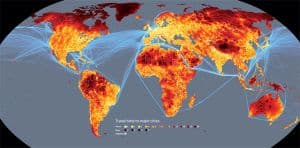 Where's the most remote place on Earth?

Bluetooth 3.0 introduced.

Stephen Hawking to pull through: "He is comfortable and his family is looking forward to him making a full recovery."

WTF would Jesus do?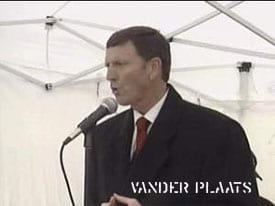 Vander Plaats plots Iowa gubernatorial campaign: "Vander Plaats recently placed an ad on Republican-leaning news site, the
Drudge Report, to show the nation that most Iowans are against gay
marriage…"The definition of marriage is also going to be an issue in the
campaign, and in particular where the incumbent governor and the
Democrat-controlled legislature is saying, 'We don't even want to hear
from the people on this issue. The courts have said it so therefore
we're going to back away and wash our hands of it.' I think that's
going to be a major in the 2010 campaign."

Robert Smith of The Cure is 50 years old today!

Gertrude Stein Democratic Club blasts D.C. Mayor Adrian Fenty for firing gay Parks & Recreation director Clark Ray, demands meeting: "Today's firing of Clark Ray as Director of Parks and Recreation is
a slap in the face to the GLBT community…In a
city with a huge GLBT population, which supported you in large numbers,
that is unacceptable…It is clear to most that Mr. Ray performed his duties
in a way that was a credit to the administration," it stated.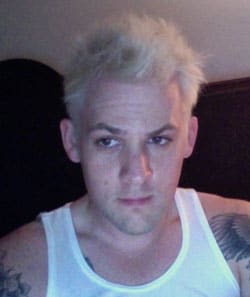 Good Charlotte's Joel Madden takes a turn for the blond.

Councilman to introduce domestic partner registry in Duluth, Minnesota.

Screw Miss USA, here's the Mr. Broadway Beauty Pageant.

Gay British Columbia New Democratic Party candidate Ray Lam steps down over Facebook photos showing him feeling woman's breast, pulling down underwear: "Mr. Lam has been involved for several years with the Pride Society, a
Vancouver-based advocacy group for the gay, lesbian, bisexual and
transgendered community. According to a Pride Society web site, Mr. Lam
has been involved in several community organizations and was chair of
Youthquest, Lesbian & Gay Youth Society of British Columbia."

Rev. Lou Sheldon's Traditional Values Coalition warns federal hate crimes bill will legalize numerous types of sexual crimes because the American Psychiatric Association lists certain sexual fetishes under a long list of "sexual orientations".