I haven't noticed as much publicity around the 'Day of Silence' this year, and I'm not sure why. It's a subject that has recently made the MSM with the bullycide of Carl Walker-Hoover. Today, according to his mother, would have been his 12th birthday.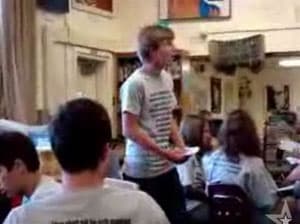 Today, ABC News published a story on how tone-deaf teachers, like the ones complicit in Walker-Hoover and Eric Mohat's suicides, perpetuate the violence against LGBT youth.
Jason Mannino, writing in the Huffington Post, drew my attention to this video which I hadn't seen before, which will just make you sick to your stomach. According to the post on Metacafe, it's an anti-Day of Silence protest by some young fundies, posted a year ago:
"This was a protest at San Juan High School, Sacramento, California.Students came to school wearing T-shirts that had Bible Verses on them(1 Corinthians, 6:9-10) The verses say that Homosexuality is sin. About40 students that wore those T-shirts got suspended. Those students whogot suspended refused to take the star test until the administratorsremove the suspensions and let them wore those shirts. This is a clipwere they are in the library because the administrators made them sitfor 5 hours…"
Watch it, AFTER THE JUMP…
San Juan High School Gay Protest (Anti GLSEN) – A funny movie is a click away