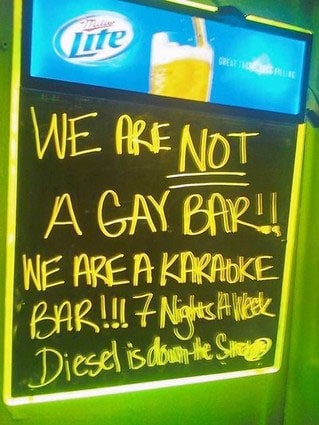 This sign at The Elbo Room bar in Peoria, Illinois inspired local residents to take action:
"In a flurry of forwarded Facebook, MySpace and text messages, a coalition quickly mobilized and dozens of gay rights supporters lined up last weekend outside The Elbo Room to express their outrage. The sign, they said, might as well have read, 'Gays are not welcome here.' 'The sign was basically a sign of intolerance, and we're not going to stand for it anymore,' said Stephanie Worlow, 27, one of the organizers of the protest that drew nearly 40 people. 'It's time that we as a community stand up for ourselves. We're not going to stand for intolerance anymore.' The group held three protests last weekend, one of which drew the attention of paintballers, who fired on the crowd. Police had no suspects in that attack"
The bar owner apologized and said it would never happen again.