In the early hours of April 4 a University of Virginia student and his visiting friend were attacked by five men on the University of Virginia campus in an assault based on the perceived sexual orientation of the victims, Allen W. Groves, the Dean of Students at UVA said in a letter mailed to students recently.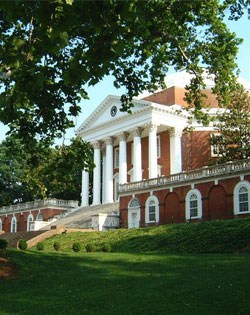 Writes Groves: "The attackers uttered several homophobic slurs immediately prior to and during the attack. The attackers smashed the victim's cell phone when he tried to call 911 for help. University Police units responded when the student's guest was able to flee and call for help. Based upon the facts as we currently know them, we believe this to be a bias‐motivated crime, in that the perceived sexual orientation of the two victims appears to have motivated the assault."
The investigation of the attack, originally thought to have occurred off-campus in Charlottesville, was turned over to the University police after the site was visited by the victim and investigators who determined it was in UVA's jurisdiction. Groves added: "There is no place for crimes of hate at the University or in the surrounding Charlottesville community. Please know that we will do all that we can to apprehend and punish those responsible."
Charlottesville's Daily Progress reports: No arrests have yet been made in the incident, though the UVa Police Department is investigating, said Lt. Melissa Fielding. 'It's an open, active investigation,' she said. 'We would encourage
anyone with information about this incident to call Crime Stoppers or
University Police.' Crime Stoppers can be reached at 977-4000 and UVa Police are at 924-7166."
Virginia's hate crimes law does not cover sexual orientation. However, "UVa's student-run judicial system, however, can
impose additional sanctions against an offending student if the action
was motivated by the victim's sexual orientation."