Beau Breedlove, the former legislative intern at the center of the scandal involving Portland Mayor Sam Adams earlier this year, has filed a request for a restraining order against an Oregon reporter: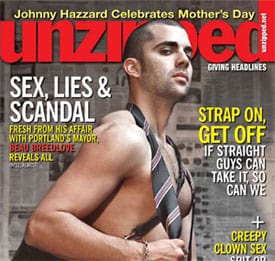 "In January, [The Oregonian's Brent] Walth interviewed Breedlove about his relationship with
Adams, as well as exchanging text messages with him during developments
that followed. In his petition, filed in Multnomah County Circuit
Court, Breedlove characterized the contacts as threatening, alleging
that Walth said he would publish damaging information about Breedlove
unless he agreed to an interview.
Breedlove said that Walth's harassment and
threats "affect the public's opinion of me and the investigation that
is being made by the Oregon Attorney General's office. 'Any suggestion that Brent Walth coerced or threatened Beau
Breedlove is absurd,' Sandy Rowe, editor of The Oregonian, said. 'Mr.
Breedlove gave us an on-the-record interview voluntarily. He asked for
nothing in exchange for the interview, and the newspaper made him no
promises about what it would or would not publish.'"
Soon after the scandal died down, Breedlove announced he was posing nude for gay porn magazine Unzipped.
UPDATE: Request denied.