Episcopal Bishop Gene Robinson is among hundreds of clergy members on Capitol Hill today urging lawmakers to support an expanded hate crimes bill that would include sexual orientation, and other gay rights measures: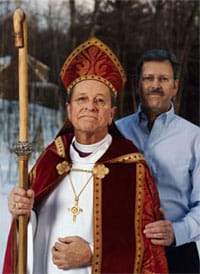 "It is the second time the lobbying effort known as Clergy Call has been
held on Capitol Hill; the first event was held two years ago. 'They're not here to grind political axes," said Harry Knox of
the Human Rights Campaign, which is sponsoring the event. "They're here
out of a pastoral concern for real people in their congregations who have to
deal with the ramifications of hate violence and employment
discrimination.'…Bishop Robinson, who delivered the invocation during a kickoff concert
at the Lincoln Memorial for President Obama's inauguration, said that
despite recent momentum, an uphill struggle continues for gay rights
supporters in the religious community. He said that's because their
message is often overshadowed by many on the religious right. 'Religion in general still presents the greatest obstacles we
face in full equality,' he said Monday during a speech at Calvary
Baptist Church in downtown Washington. 'Ninety-five percent of the
oppression that we know in our lives comes from the religious
community.'"