Portland Mayor Sam Adams was involved in a minor fender-bender yesterday evening. Adams, who drives a GMC pick-up, "T-boned" another car, pushing it 50 to 70 feet in the parking lot of a toy store. A witness claimed to smell beer on Adams' breath, but police found no reason to believe there was any validity to that claim.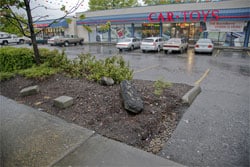 The Oregonian reports: "After the accident, Reed said that Adams asked whether he was OK.
Reed said he had some back and neck pain and went to the emergency room
just to make sure he was all right. Schweitz, who had run to check on the victims, told police at the
scene and The Oregonian on Monday, that he was two to three feet from
Adams and smelled alcohol on the mayor's breath. 'It seemed like beer,'
Schweitz said. Adams, through his spokesman, said 'there's no truth to that
allegation.' Police said they saw no indication that Adams was impaired
and said they had no reason to ask the mayor to submit to a
field-sobriety test. Reed also said he didn't notice anything unusual
about Adams. 'The mayor had no signs of being under the influence at all,' said North Precinct Sgt. Ron Berry."