Obama and Cheney face off with speeches on terrorism.

Today marks the 30th anniversary of San Francisco's White Night riots, which happened after a court handed down the most lenient sentence possible to Dan White (voluntary manslaughter) for the murders of Harvey Milk and George Moscone.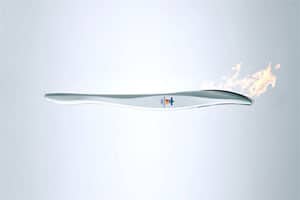 What was Vancouver smoking when they designed the new Olympic torch?
Army veteran Brian Hughes in WSJ: Time to end 'Don't Ask, Don't Tell'.
New Hampshire Republican lawmaker and marriage equality supporter reveals "festering wound" of Governor John Lynch's request for revision of marriage legislation. GOP urging veto.
First screen shots of Rihanna and Kanye West's new video "Paranoid".
Gerard Butler acts like the village idiot at The Village Idiot.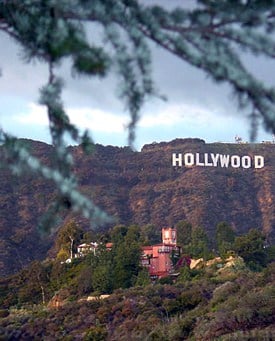 Castillo del Lago, former Madonna home goes on sale for $15 million. "When
Pytka bought the mansion from Madonna in the mid-'90s for roughly $5
million, he considered it a standout compared with what else was on the
market. Under her ownership, the
house gained its notable red-and-yellow exterior. Although Pytka
researched the home's history and looked at the original color, he
opted to keep Madonna's color scheme."
General assembly of the Church of Scotland divided over gay minister: "On Saturday evening, elders will debate the appointment of Mr Rennie, a
36-year-old divorced father-of-one, as minister at Queen's Cross Church
in Aberdeen."
1969: New York Public Library to feature exhibit on emergence of gay liberation.
Marie Osmond discusses her lesbian daughter Jessica: "I love my daughter! She's my baby girl, come on. So what
if she's gay? She's my daughter and she's an amazing woman and a good
kid. I raised her, she better be good." You may remember her recent radio interview on the subject.
Colorado Governor signs bill allowing gay employees to share benefits with their partners.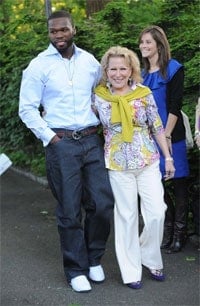 Bette Midler and 50 Cent: New BFFs.
On the red carpet at LOGO's NewNowNext Awards…
Nevada Domestic Partnership bill called "vital" for state economy: "Our state cannot afford to lose any
more revenue to other destinations because of a reputation as a place
which is not socially or politically the right place to do business or
to vacation."
D.C. Democrats in same-sex marriage debate.
Massachusetts marriage equality works: debunking the lies of the Right.
Investigation of Ireland's Catholic-run schools reveals rampant sexual abuse of students by male priests.
Anti-gay former Santa Fe, Texas city council candidate Michael Aldous arrested on drug possession charges: "During his campaign for a seat on the Santa Fe City Council, in which
his father, Warren Aldous also ran, the two promised voters that if
elected they would try to slash the budget of the Santa Fe Police
Department in half.  Michael was battered in the press for making
derogatory remarks against "homos" referring to an announced gay
candidate."