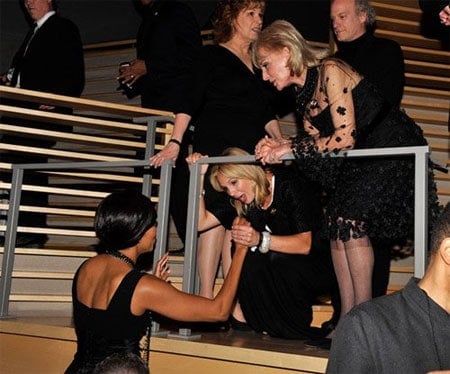 Elisabeth Hasselbeck's pregnancy cravings are really getting out of hand. Michelle Obama looked so good at TIME's 100 Most Influential People at Lincoln Center in New York that the right-wing View host appeared to want a bite of her.
Kidding aside, Obama was the evening's focus: "And it was a powerful crowd that stood to applaud her entrance,
including fellow honorees Oprah Winfrey, Barbara Walters and her
cohorts from 'The View,' financial analyst Suze Orman, fashion designer
Stella McCartney, and the guys who invented Twitter. Not on the
honoree list but also attending: Diane Sawyer and Charlie Rose. Actors
Claire Danes and Hugh Dancy, Kate Hudson and Liv Tyler. Director Judd
Apatow, 'Saturday Night Live' producer Lorne Michaels, conservative
pundit Ann Coulter. In her speech, Mrs. Obama spoke of the
importance of public service in her own life, and then announced that
the president's budget proposal for next year will include $50 million
to help promote national service and advise nonprofit groups."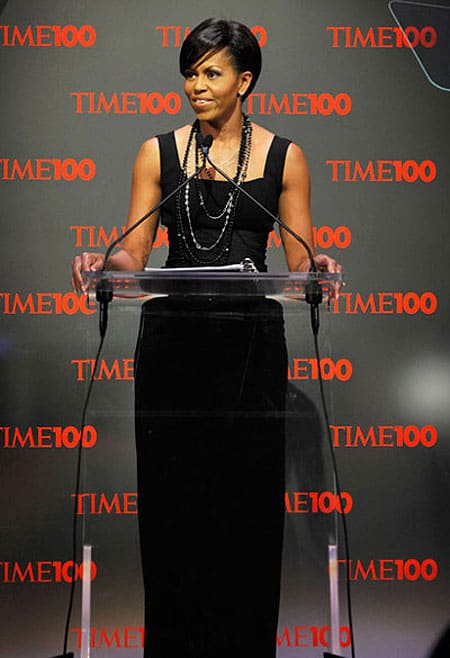 She told those gathered: "Our success was made possible with the encouragement of a diligent
parent or teacher, a grandparent who told us we had real talent, an
older sibling who paved the way and set a good example, a scholarship
or grant that created an unexpected opportunity, or a neighbor or
community leader who told us to dream big. That's certainly
been the case in my own life…As global leaders, let's not underestimate the power each of us has to
change the world for someone -– and let us not be afraid to try."