In a forthcoming memoir, A Pilgrim in a Pilgrim Church: Memoirs of a Catholic Archbishop
, former Milwaukee Archbishop Rembert Weakland, acknowledges he is gay and details his struggles with his homosexuality and the Catholic church.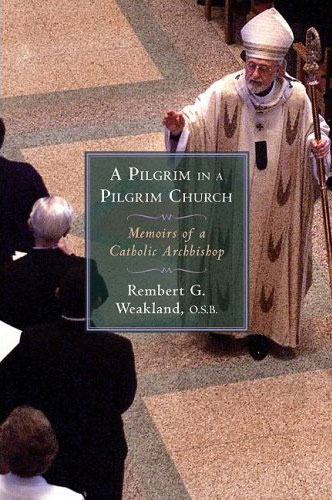 The AP reports: "Weakland stepped down quickly after Paul Marcoux, a former MarquetteUniversity theology student, revealed in May 2002 that he was paid$450,000 to settle a sexual assault claim he made against thearchbishop more than two decades earlier. The money came from thearchdiocese. Marcoux went public at the height of anger over theclergy sex abuse crisis, when Catholics and others were demanding thatdioceses reveal the extent of molestation by clergy and how much hadbeen confidentially spent to settle claims. Weakland denied ever assaulting anyone. He apologized for concealing the payment…The revelations rocked the Milwaukee archdiocese, which Weakland hadled since 1977. But when he publicly read a letter of apology for thescandal, Milwaukee parishioners gave him a a standing ovation…Weakland, who has been a hero for liberal Catholics because of hiswork on social justice and other issues, will also address in thememoirs his failures to stop abusive priests. In a videotapeddeposition released last November, Weakland admitted returning guiltypriests to active ministry without alerting parishioners or police. Advocatesfor abuse victims said that Weakland's cover up of his own sexualactivity was part of a pattern of secrecy that included concealing thecriminal behavior of child molesters."
The Publishers Weekly review and a report from Wisconsin's WLUK, AFTER THE JUMP…
Via Publishers Weekly: "When Weakland resigned as Milwaukee archbishop in 2002 afterrevelations of a past homosexual relationship and a confidentialpayout, it was seen as another stunning episode in the unfolding clergyabuse scandal. It was especially painful to liberal Catholics whoviewed Weakland as their champion. Weakland was publicly penitent, butother events that year—chief among them the resignation of CardinalBernard Law in Boston—made Weakland's drama a footnote. With this frankand well-told memoir, that's no longer the case. A Benedictine monk,Weakland is up front about his homosexuality in a church that preferredto ignore gays, and about his failures in overseeing pedophile priests.But this is really the poignant journey of a soul, not a mea culpaabout sex, with chapters on his hardscrabble boyhood and fascinating,and sometimes sobering, insights into the life of a bishop and thetensions between the American Catholic Church and the Vatican. Atpoints the narrative has more than enough detail on the life of aglobe-trotting abbot. But overall this is an invaluable historicalrecord and a moving personal confession."