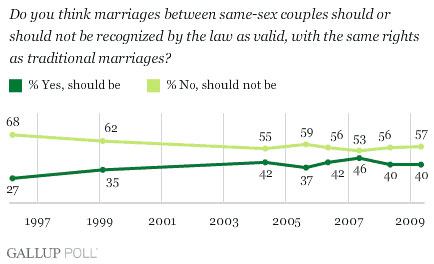 A new Gallup poll shows that despite advances in several states on marriage equality, national public opinion has generally remained the same, with a majority of 57% opposed and 40% in favor. Also:
***
"Americans' views about allowing gay men and lesbians to serve in the
military have undergone a major shift since Bill Clinton attempted to
change military policy early in his administration. No more than 43% of
Americans favored military service by openly gay soldiers in 1993,
according several NBC News/Wall Street Journal polls conducted
that year. Clinton and the military eventually compromised on the
so-called "Don't Ask, Don't Tell" policy that allowed gays to serve as
long as they did not disclose their sexual orientation.
"Today, the latest USA Today/Gallup poll finds 69% of
Americans in favor of military service by openly gay men and lesbians.
While the Clinton-era policy remains in place, President Obama promised
during the campaign to change it.
"Americans also show broad support for gay rights in the following areas: Sixty-seven percent say gay and lesbian domestic partners should have access to health insurance and other employee benefits. Nearly three in four Americans, 73%, believe gay and lesbian domestic partners should have inheritance rights. Sixty-seven percent favor a proposal to expand hate-crime laws to cover crimes committed against gays or lesbians.
Only 28% of Americans believe that gays
or lesbians should not be hired as elementary school teachers.
Sixty-nine percent believe they should be allowed to teach children.
"Americans are somewhat less supportive of adoption rights for gay
couples, though a majority (54%) still support this. The current level
of support does represent an increase from Newsweek polls conducted in 2002 (46%) and 2004 (45%)."