Lesbians to apply for same-sex marriage license in Russia: "Public relations worker Irina Fyet, 31, and her partner of the same
age will apply for a marriage license at a register office on May 12 in
Moscow, a city where mayor Yuri Luzhkov once described gay pride
marches as 'satanic.' Gay rights activist Nikolai Alekseyev said it was the first time a gay couple would apply for a license."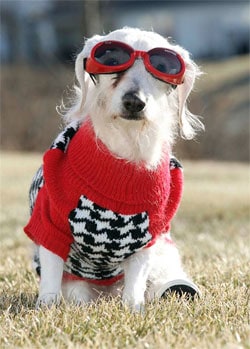 Meet Chanel, the world's oldest dog: "She always wears a sweater or T-shirt when she goes out, even in
summer, because she tends to get chilled easily. Chanel also has
cataracts and has to wear goggles with tinted lenses to protect her
eyes when she goes out."

Pets who teabag.

Staley and Sullivan: Obama asleep at the wheel on HIV? "Their apparent resistance to anything pro-gay – delaying repeal of DADT
indefinitely, freezing with fear on anything to do with civil unions or
marriage – is beginning to make the Clintonites in the primaries seem
prescient; and those of us in the gay movement who backed Obama seem
like fools."

EU bans seal products.

Kylie Minogue to launch U.S. tour.

Levi's launches campaign for Hetrick-Martin Institute.

Arlen Specter misspeak: "There's still time for the Minnesota courts to do justice and declare Norm Coleman the winner."

Prop 8 The Musical wins Webby Award.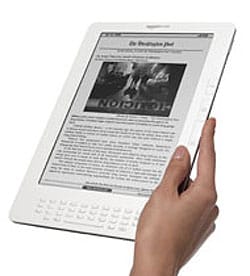 Amazon's newest Kindle: first impressions:
"Three newspapers — The New York Times, Washington Post and the
Boston Globe — will offer a reduced price on the Kindle in exchange for
a long-term subscription. The Times and Globe will be offered starting
this summer in areas where home delivery is not available. No prices of
that promotion were released. Amazon emphasized that the Kindle will
exchange personal documents, all without the user having to look for a
wireless hot spot."

Tim Gunn goes to Capitol Hill.

Deb Price: David Souter proves a gay rights surprise. "Using his intellectual gifts and good heart, Souter helped produce a
warming trend, enabling the court to begin moving away from four
decades of icy treatment of gay men and lesbians. Thanks to
Souter, the court turned a major corner in 1995, when a unanimous
opinion that he wrote for the court finally used the respectful term 'gay.'"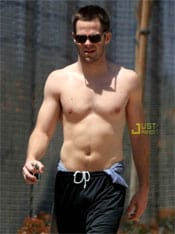 Chris Pine: The new Captain Kirk goes for a shirtless stroll.

Kirks collide: Pine meets Shatner.

Openly gay North Carolina state senator Julia Boseman advances bullying bill: "The measure now goes to the House, which passed a similar bill last year, according to the Greensboro News & Record. 'This is solely to protect kids and keep them safe at school,'
Boseman said, but social conservatives vowed to fight the bill because
it specifically includes sexual orientation."

Beast: Why do Kanye West's fashion choices bring out the homophobes?

El Al launches tourism campaign for gay Europeans.

Viewers await gay storyline in Southland…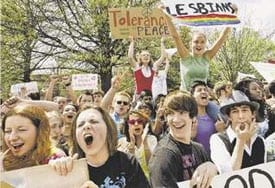 The new guard: Lincoln High School students in Iowa battle back against the Phelps clan. "More than 200 students gathered at the northeast corner of Lincoln High
School's campus Tuesday afternoon to counter a protest by about a
half-dozen anti-gay pickets from a controversial Kansas church. Zach
Toillion, a Lincoln senior, used the social networking Web site
Facebook to urge students to protest across from the pickets, who stood
along Southwest Ninth Street. The students carried signs that read 'God
loves all' and 'unity' and cheered at honking cars."

Bradley Cooper to play The Green Lantern?