The New Hampshire House agreed to changes to the marriage bill made by the state Senate in a vote of 178-167, and the bill has been sent to Governor John Lynch for his signature. Will he or won't he is the question of the hour.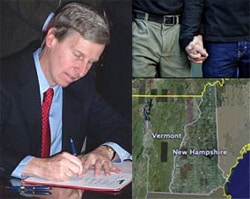 I mentioned yesterday: In anticipation of the House's approval of the bill, Governor John Lynch's office has been inundated with more than 2,000 phone calls, 2,000 emails, and hundreds of pieces of mail.
Lynch has said he believes marriage to be between a man and a woman and
feels the state's civil unions are sufficient for equality. Said Lynch
after the Senate vote:
"I still believe the fundamental issue is about providing the same
rights and protections to same-sex couples as are available to
heterosexual couples. This was
accomplished through the passage of the civil unions law two years ago.
To achieve further real progress, the federal government would need to
take action to recognize New Hampshire civil unions."
Maine Governor John Baldacci had similar views to Lynch before today, when Baldacci quickly signed the marriage bill into law, saying he had changed his mind about the issue.
The New Hampshire Freedom to Marry Coalition has been urging voters to call Lynch to tell him to support the bill. (That info is here.)

Previously
Marriage Equality Focus About to Turn Back to New Hampshire [tr]