New York State Senator Ruben Diaz Sr. takes credit for poor marriage equality polling numbers, predicts bill won't come to floor by end of session.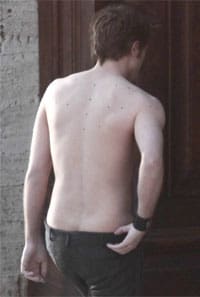 Vampire takes his chances in the sunlight.

Let's Pets Get Physical!

Guy Ritchie working on film adaptation of Guys & Dolls? "The director, best known for his London-based crime films, is said to have roped in movie hardman Jason Statham to show off his vocal talents in a reworking of the classic musical, which originally starred Marlon Brando and Frank Sinatra."

Kathy Griffin, Lance Bass and other celebs take to the streets of L.A. to protest Prop 8 decision.

Drew Barrymore speaks at Prop 8 protest.

AIDS prevention campaign: sexual promiscuity written in the pubes.

Hubble Telescope healthy, solid after repair: "We've got a
whole new telescope. We've got four new instruments. Two of them dead, now
alive. These are
truly the best of times. Not the worst of times."

Phyllis Lyon recalls her life with the late Del Martin as Prop 8 is upheld.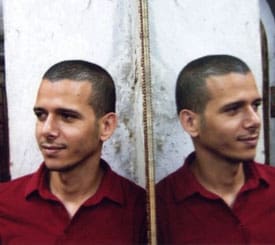 Gay Moroccan author Abdellah Taia tells all: "Taia has defied Moroccan society's don't-ask, don't-tell attitude
toward homosexuality — and prison sentences that are still on the books
in the North African kingdom — to write five autobiographical novels about growing up poor and gay in the northern coastal city of Sale. The
novels, peppered with sexually explicit passages, have catapulted him
to fame in his native country and made him the de-facto poster child of its budding gay rights movement."

Make Me a Supermodel fix: Jonathan Waud.


Right whales return to former whaling ground.

Chris Brown: "I ain't a monster."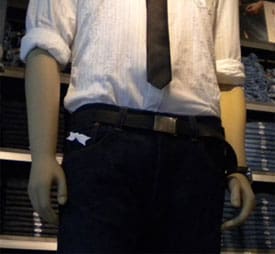 Levi's joins White Knot movement for marriage equality: "Our design team was seeking something that would resonate beyond just fashion but also fit with our white product theme."

Hero of the day: Duckman.

Grand Theft Auto IV creators to release new title – The Ballad of Gay Tony.

San Francisco's thin blue gay line.

Paul Oakenfold says titles of new Madonna singles are "I'm Sorry", "Broken", and "Celebrate".


8: The Mormon Proposition. An interview with director Reed Cowan: "Truthfully, this film started out as an exposé on the problems of gay
teen homelessness in Utah's 'Zion' and an examination about WHY
otherwise loving parents would kick their kids out on to the streets
just because their kids are gay.  But as the weeks and months unfolded
in our project, I began seeing that history demanded our project be
larger in scope.  Slowly, but with great force, our focus shifted to
what I believe is the 'touchstone' of Mormon ideology regarding
homosexuality…and that is exclusively Mormon efforts to get PROP 8 on
the ballot in California and see its passage.  It's the case against
Mormons and what I believe has been a decades long work to damage gay
people and their causes.