Two women were found dead in their home yesterday morning after a home fire was reported to authorities in rural Statesboro, Georgia, northwest of Savannah, the Statesboro Herald reports: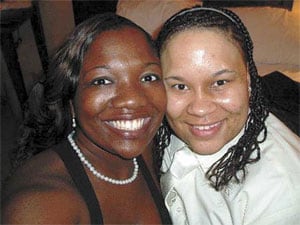 "After Statesboro firefighters arrived at the scene around 9:45 a.m. and extinguished the flames, they discovered a woman's body and called police, said Statesboro Police Chief Stan York.
Statesboro Police detectives responded and discovered a second woman's body, he said.
Statesboro Police Capt. Scott Brunson, who called the fire 'suspicious,' said the bodies of Naumbyia T. German, 26 (right), and Kiona Lively, 27, who both lived at the residence, were sent to the Georgia Bureau of Investigations Crime lab for testing.
Neither Brunson nor Statesboro Fire Chief Dennis Merrifield would comment on the cause of the fire, and Brunson said he would not release additional details, including the cause of death, until crime lab reports were returned. He said he expects the results Thursday or Friday."
The two women were married in a civil ceremony in Toronto, Canada in March, 2007, the paper reports.
UPDATE: Police rule deaths a murder-suicide.