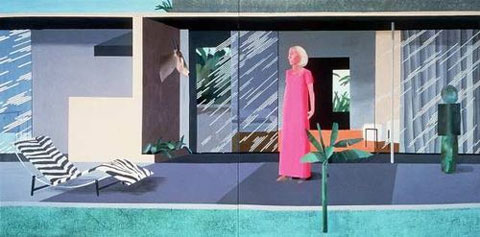 David Hockney's 1966 painting "Beverly Hills Housewife", which depicts art patron Betty Freeman, sold for $7.9 million at Christie's last night:
"The 12-foot double canvas shows the pink-sheathed collector on her
patio, flanked by a zebra-print Corbusier lounge chair, and an abstract
sculpture. It was featured in a 2006 exhibition of Hockney portraits at
the Los Angeles County Museum of Art. The previous auction record
for a Hockney was $5.35 million for "The Splash," a 1966 swimming pool
painting once owned by movie mogul David Geffen. It sold in London in
2006 at Sotheby's."
Hockney, who is 71, has recently taken to painting on his iPhone.