In an interview with the Detroit Metro Times, Eminem calls Elton John frequently for advice: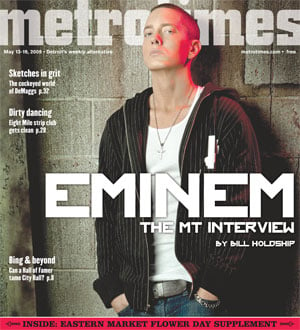 "I talk to Elton a lot. We became
friends and I talk to him about things, career wise. And he had a substance abuse problem in the past.
So when I first wanted to get sober, I called him and spoke to him about it because, you know, he's somebody
who's in the business and can identify and relate to the lifestyle and how hectic things can be. He
understands like the pressure and any other reasons that you wanna come up with for doing drugs,
you know.
Me and him have had similar lives and stuff. So I reached out to him and
told him, 'Look, I'm going through a problem and I need your advice.'"
Elton John and Eminem's collaboration at the 2001 Grammys drew criticism from GLAAD because of Eminem's homophobic lyrics. At the time, GLAAD release a statement saying it was ''appalled that John would share the stage with Eminem, whose words and
actions promote hate and violence [against gays and lesbians]."