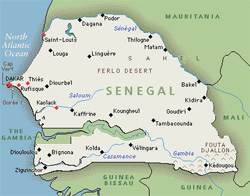 A Senegalese man suspected of being gay was exhumed and thrown out of the cemetery after being buried:
 "The man, in his 30s, was first buried on Saturday before residents
of the western town of Thies dug up his body and left it near his
grave, police say.  His family then reburied him, but he was once more exhumed by people
who did not want him buried there. His body was dumped outside the
family house…A police officer told the AFP news agency that the body was eventually buried away from the cemetery.The state-owned Le Soleil newspaper reports that it was buried within the grounds of the family home"