In a new piece published in the Huffington Post, author, activist and playwright Larry Kramer takes historians (particularly Richard Godbeer and his new book The Overflowing Friendship: Love Between Men and the Creation of the American Republic) to task for attempting to wipe gays from history: "In this new book, Godbeer is hell-bent on convincing us that two men in
colonial America could have exceedingly obsessive and passionate
relationships (he calls them, variously, 'sentimental,' 'loving,' 'romantic') replete with non-stop effusive correspondence that rivals
anything in Barbara Cartland, and spend many a night in bed together
talking their hearts out, without the issue of sex arising in any way."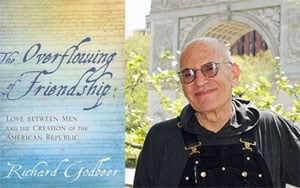 Adds Kramer: "Gay people are victims of an enormous con job. An awful rip-off. A
tragic heist. This has been going on for too many years. It is time to
call its bluff and grow up. This means recognizing that we have been
here since the beginning of the history of people. This means accepting
that men loving men, men having sex with men, has been here since the
beginning of history. Period and Amen. And that every single
correspondent quoted by this Professor Godbeer knew what I am talking
about. If they didn't write about it, well who knows why not. I must
say that many of these young men sound to me like what we used to call
weenies, wimps, sissies, wusses, whatever expression you want to use
for the guys who never got chosen for the team. There is not a butch,
or masculine sounding fellow among them. Read enough of their endless
platitudinous meanderings and you long for some real men to come along
and stop their whining and grab their crotches and plant a deep long
kiss, avec tongue. Yes, IT SEEMS REASONABLE TO ASSUME
they knew how to do this then. We have known how to do all this from
the very start of… well anything and everything. And please don't
tell me that I'm guilty of applying today's 'sensibilities' to
something that happened over 300 years ago. You bet I am, and so what?"
Homo Sex in Colonial America [larry kramer]
The HuffPost notes: Larry Kramer has been writing his [current project] The American People since 1978.
His first draft, just completed, is some 4000 pages. He and his editor
are now rolling up their sleeves.