New polling data was released on same-sex marriage by Quinnipiac University today, showing that New Yorkers are split on the legalization of same-sex marriage. According to the pollster, "Voters opposed same-sex marriage 55 – 37 percent in an April 15, 2004" similar poll:
New York State voters are split 46 – 46 percent on whether same-sex couples should be allowed to marry, with black voters opposed 57 – 35 percent while white voters tip narrowly in favor of gay marriage 47 – 45 percent, according to a Quinnipiac University poll released today.
In this latest survey of more than 2,800 voters, New York State voters support same-sex civil unions 65 – 27 percent with 67 – 24 percent support from white voters and 52 – 39 percent support from black voters.
Jews support same-sex marriage 61 – 34 percent as Catholics oppose it 53 – 39 percent and Protestants say no 55 – 38 percent. Voters who attend religious services at least once a week oppose same-sex marriage 66 – 26 percent, while those who attend services less frequently support same-sex marriage 56 – 36 percent. Women support the measure 49 – 42 percent while men oppose it 51 – 42 percent.
Democrats support same-sex marriage 59 – 34 percent, but Republicans oppose it 68 – 24 percent while independent voters split with 46 percent in favor and 45 percent opposed. Same- sex marriage wins 61 – 33 percent support among voters 18 to 34 years old and gets 48 – 44 percent support among voters 35 to 54 years old, while voters over 55 oppose it 55 – 37 percent.
Gays and lesbians are born that way, 46 percent of New York State voters say, while 29 percent say people choose their sexual orientation and 6 percent say it is decided by upbringing.
Deeper analysis of the poll and more figures can be found here.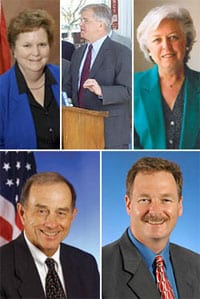 New York magazine posted an item yesterday on what motivated the five lawmakers who switched their votes to "yes" on marriage equality legislation from a "no" vote two years ago. For two, it was unease about civil unions and data that showed they were really not equal, for another it was based on political caution. One said that he's achieved a "greater awareness of the personal pain endured by gay men and women." The fifth was moved by "conversations she had with parents of homosexual children."
Nate Silver has an analysis of the path to victory in the Senate: "The most plausible path to 32 votes involves picking up the 20 definite
yes votes, plus the 5 Democrats and 7 Republicans that we characterize
as truly undecided or leaning yes. Although a clean sweep of these
votes would seem unlikely, there are some backup options in the form of
1 Democrat and 4 Republicans who we describe as leaning — but not
definitively — against the bill."