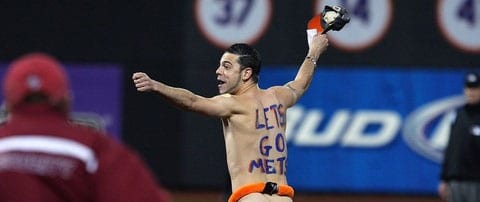 New York's brand new Citi Field was christened with its first streaker on Tuesday night. He had a personal cameraman with him, of course, who posted a mini-doc on YouTube.
Watch it (possibly nsfw), AFTER THE JUMP…
UPDATE: The streaker, Craig Coakley, faces up to a year in jail and civil penalties of up to $5,000. Queens DA: "As the defendant sadly learned yesterday, one 'streak' equals threestrikes and you're out — out of the ballpark and on your way to thecourthouse to face arraignment on criminal charges."