New York City Comptroller William C. Thompson Jr. issued an update to a 2007 analysis (Love Counts: The Economic Benefits of Marriage Equality for New York) he did on the economic benefits same-sex marriage would have on New York City and New York State.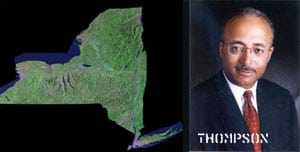 Taking into accoung "legislative strides" and "economic straits" across the nation, Thompson said in a press release today that New York's economy would gain $210 million in the three years immediately following the legalization of same-sex marriage:
Amid passage of marriage equality laws in other states and efforts to
legalize marriage of same-sex couples in New York, Thompson's office
revised his initial estimates and adjusted for greater options
available to same-sex couples contemplating marriage as well as
inflation, and the recession. Accordingly, Thompson's analysis finds
that passage in New York State could yield (over the course of three
years):
—   $210 million for New York State, if the economy were not to
have any effect on wedding spending. However, assuming that the
recession leads to a 50 percent reduction in the number of out-of-state
guests attending "destination" weddings in New York, that number would
drop to $178 million.
—   $149 million for New York City, if the recession did not have
any effect. That number would drop to $120 million if it did.
In determining the new numbers, the Comptroller's Office factored in
the nation's sagging economy and the fact that other a greater number
of states now permit marriage for same-sex couples.
As a result, the analysis accounts for fewer people staying overnight
when attending weddings in New York City or State, and fewer guests
attending the events.
Said Thompson: "New York State and New York City stand to benefit economically if marriage equality is passed in our State. Legalizing marriage for same-sex couples is not only good for the couples, but also for our economy. And while other states across our nation have legalized marriage for same-sex couples since my last report, I expect New York to still stand as a prime destination for many couples because it will stand as a welcoming beacon of diversity and acceptance."