Richard Socarides, who worked as a special assistant to President Bill Clinton for three years, and served at the White House for six during Clinton's administration, asks of Obama in a Washington Post column, where is the "fierce advocate" we were promised?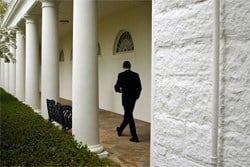 "As an adviser on gay rights to President Bill Clinton during his second
term, I know how hard it is to achieve real progress. We learned that
lesson acutely during Clinton's abortive first-term attempt to allow
gays to serve in the military, an outcome for which he is still paying
a steep legacy price. But recent victories on gay marriage, a youth-driven paradigm shift
in public opinion and the election of our first African American
president make this a uniquely opportune moment to act. I understand that the president has his hands full saving the economy.
But across a broad spectrum of issues — including women's rights, stem
cell research and relations with Cuba — the Obama administration has
shown a willingness to exploit this change moment to bring about
dramatic reform. So why not on gay rights? Where is our New Deal?"
Where's Our 'Fierce Advocate'? [washington post]
Also, check out this new article from AP, about how same-sex marriage now benefits Democrats and is a hindrance for Republicans:
"With congressional elections next year, Republicans, Democrats and
nonpartisan analysts say the changes benefit Democrats, whose bedrock
liberals favor gay unions, and disadvantage Republicans, whose
conservative base insists that marriage be solely between a man and a
woman. 'This is not a sea change. This is a tide that is slowly
rising in favor of gay marriage,' creating a favorable political
situation for Democrats and ever-more difficulty for Republicans, said
David McCuan, a political scientist at Sonoma State University in
California."