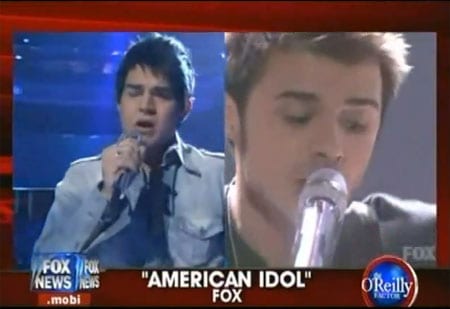 Bill O'Reilly had Newsweek's Ramin Setoodeh on to discuss whether or not the fact that Kris Allen is a Christian and Adam Lambert is allegedly gay will have any effect on the Idol voting.
Lambert and Allen actually commented on this very topic in an interview with E!
E!: Kris, there's been talk that since you are active in your church, that the Christian vote is helping you. What do you think of it?
Kris Allen: I hope that having the Christian vote does not help with anything. I hope it has to do with the talent and the performance that you give. It's not about religion and all that kind of stuff.Adam Lambert: This is a singing competition, not a church thing.Kris: Yeah, totally.
Adam: I would hope people vote based on what they like to hear. I don't think it has anything to do with your religious background, what color you are, gender. It doesn't have anything to do with that.
Watch the O'Reilly segment, AFTER THE JUMP…