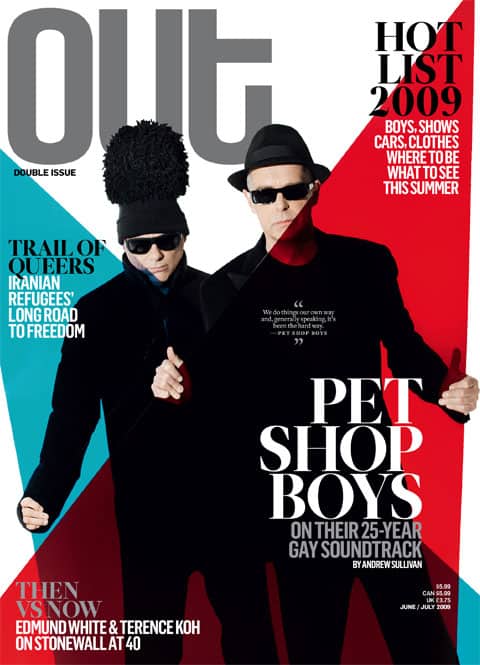 The Pet Shop Boys talk to Andrew Sullivan for the June/July issue of OUT magazine.
In the interview, which touches on gay culture, America, AIDS, religion, and the music, Neil Tennant confesses: "I got alienated from the gay world — when I went through my famous
heterosexual phase — because everyone looked the same. To this day,
I've never got the everyone-looking-the-same thing…this was the clones and the checked shirts and the 501s and the same
mustaches, you know. I mean, now you can look back, and it seems sort
of endearingly kitsch. It's Tales of the City, you know — it's
that period. I found that alienating because it seemed professional and
narcissistic and just about doing sex really well. And all of that I
don't find very sexy."
Tennant also speaks of his fondness for Obama: "We're crazy about Obama in Europe. Everyone thinks he's sexy. Lovely teeth, as my mother would say. He's brought back dignity, which is an amazing thing to put back on the cultural agenda. There's a slightly corny song on our album called 'More Than a Dream,'
which was written when Obama was slugging it out with Hillary in the
primaries, and you could feel the potential for the world to change
away from the sort of paranoia — justified as it may be — to
something different. And that spirit is what we're riding at the
moment, although of course we wrote that before the economic crisis."
Read the full interview at OUT.