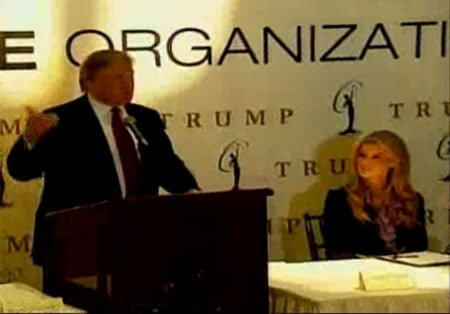 Donald Trump held a news conference today and announced that Carrie Prejean will remain Miss California, and said that she is now getting along with pageant officials, saying they spoke for several hours.
Video, AFTER THE JUMP…
Said Trump: "She gave an honest answer and for that she should be commended…We have determined that the pictures taken are fine, so we've made a determination that everything we've seen, we've made a determination that they're acceptable and in many cases very lovely pictures."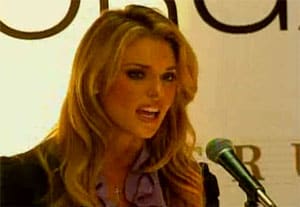 Said Prejean: "Thank you all for coming. First of all I would like to thank Mr. Trump for believing in me and allowing me to continue as Miss California USA. Second I would like to thank the Miss California organization for their support thus forward. And again believing in me and believing in women and the empowerment of women, and how women can make a difference in the world. I would like to thank the thousands of Americans who have sent letters, emails, and messages. I cannot count the fan mail I have received in the past few weeks…I want to thank my mom and dad, and my sister. She is serving in the U.S. Air Force. And most importantly I would like to thank God for trusting me with this large task and giving me the strength to stand by my beliefs. Three weeks ago I was asked a politically charged question with a hidden personal agenda. I answered my question honestly, and sincerely from my heart. I was very careful to articulate in saying that I did not want to offend anybody and that this is how I was raised and this is what I believe a marriage should be – between one man and one woman. Not only do I hold this belief, but as Mr. Trump said, the President of the United States, the Secretary of State, and any Americans agree with me in this belief. Immediately after the pageant Judge #8 began a cultural firestorm in the media. It went national. As he was trying to be self-promoting and hateful while I have remained silent since (LIE). I am honored to be here today to finally let my voice be heard and address the hateful attacks, despicable rumors, and false allegations I have had within the last three weeks…I am not an activist nor do I have a personal agenda."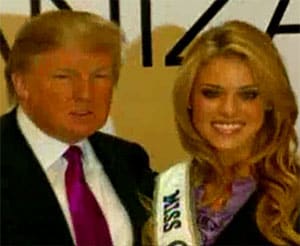 Trump said he would be happy to have Perez back as a judge. Prejean said that she "definitely forgive(s) him."
Trump was asked his views on same-sex marriage: "I don't think this is about me. If you don't mind, I think I'll take a pass. It's not up to me. It's a very big issue. It's a very complicated issue. And it's an issue that has two sides and I understand both of the sides very well. I think I'll take a pass on that question."
Added Prejean: "I'm not going to be speaking out against same-sex marriage. I'm going to resume my duties as Miss California but also stay true to who I am. We will see how we will balance the two."
Partial presser, AFTER THE JUMP…