Amid mounting calls from think tanks, former military leaders, and current servicemembers to end the military's failed "Don't Ask, Don't Tell" policy by executive order, White House Press Secretary said today that President Obama will not intervene.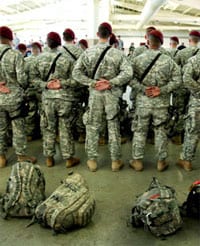 Said Gibbs: "To get fundamental reform in this instance requires a legislative
vehicle. The president made a promise to change this
policy; he will work with the Joints Chiefs of Staff, the
administration and with Congress to ensure that we have a policy that
works for our national interests…There have been discussions about the best way to move forward, and the
only sustainable way to do that is through — sustainable and durable
way — is through legislation, which the president has promised and has
continued to work for."
Yesterday, the Palm Center released the results of a study along with a blueprint that would allow the President to end the failed military gay ban via executive order. Lt. Dan Choi, a skilled Arabic linguist and the first gay soldier fired under Obama, published an open letter to the President and Congress pleading that the military not discharge him.