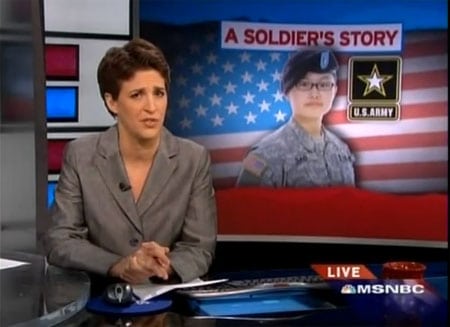 Rachel Maddow talks to U.S. Army First Lieutenant Dan Choi, the first Arabic linguist fired under Obama on 'Don't Ask, Don't Tell'. Maddow also discusses a letter published by the Windy City Times yesterday (below) to 2nd Lieutenant Sandy Tsao assuring her that he would follow through with his promises to repeal the military gay ban.
Choi announced he was gay on the Maddow show a few months ago when he launched Knights Out, a support group for US Military Academy active duty alumni, cadets, and their families.
Rep Joe Sestak also joins the conversation.
Watch it, AFTER THE JUMP…
In related news, David Mixner weighs in on the "Don't Ask, Don't Tell" debate on his blog:
"What do we tell these brave soldiers? That their lives and careersmust be sacrificed upon the altar of political convenience? America,especially its young, has come to accept that the LGBT quest forequality is a full fledged civil rights movement and not a specialinterest group that can be dealt with on a political timetable. Justice has no calendar."