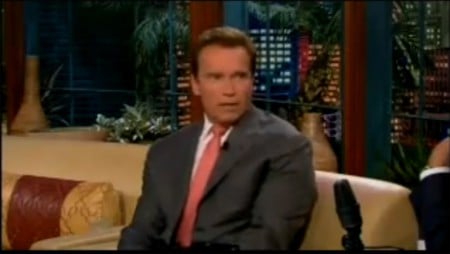 Arnold Schwarzenegger appeared on The Tonight Show last night and Leno asked him about Prop 8. The man who vetoed Harvey Milk Day couldn't have been more void of passion about the whole thing:
"This is not over," he said. "This decision, because I think in a year or two they will be back with another initiative. Eventually it's going to be overturned. I'm sure of that."
Watch it, AFTER THE JUMP…
Meanwhile, the man who would have Arnie's job (hopefully), took a "calm, firm, and resolute" approach to the ruling this time around, taking one-on-ones with reporters: "'We just feel one-on-one offered the best opportunity to get our message out,' said mayoral spokesman Nathan Ballard. The sit-downs also guaranteed that there would beno repeat of Newsom's infamous, growling declaration in the City Hallrotunda last year after the court legalized same-sex marriages that gayand lesbian weddings were 'gonna happen – whether you like it or not.'"