President Obama, the alleged "fierce advocate" for LGBT rights, is scheduled to attend a Democratic Party fundraiser at the Beverly Hilton tonight, one day after White House spokesman Robert Gibbs refused to offer any official response to the Supreme Court's decision to uphold Proposition 8 in California.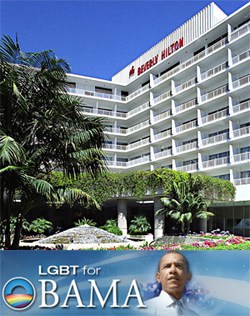 A Courage Campaign-organized demonstration is scheduled to take place in front of the Beverly Hilton this evening. The group writes: "Let's take this opportunity, just one day after the CA Supreme Court
makes its decision on Proposition 8, to show our President our support
for his daring promise to our community and to highlight the growing
movement towards FULL FEDERAL EQUALITY."
Attending the demonstration will be recently discharged (under 'Don't Ask, Don't Tell') Lt. Dan Choi and other LGBT military servicemembers: "They will ask for response from President Obama to the letter signed by
136,000 people asking the president not to fire Lt. Choi by ending DADT."
How long can President Obama remain mute on his promises to the LGBT voters who elected him?